Kayak Bass Fishing Championship
When Jonathan Abshire pulls into the Shreveport-Bossier City, Louisiana March 27th, it will be for the "Biggest ANYTHING I've ever done," according to Abshire. Over 450 other anglers may be able to say the same thing and feel some pre-tournament jitters, but they all have converged on the area with the same goal. Their goal is to win the 2019 Kayak Bass Fishing National Championship, presented by Torqeedo. Competition is scheduled for March 28-30, 2019. The KBF National Championship is the pinnacle of the kayak bass fishing world. Over $200,000 in cash and prizes are up for grabs in this one of a kind bass fishing tournament.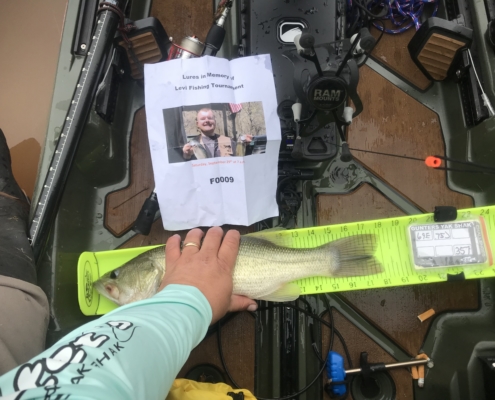 The Game
The playing field will seem unique to our traditional bass tournament readers since it includes five different bodies of water. Championship contenders will be fishing not just a single lake, but an entire system of river and lakes. Eligible water will include the Red River and the following five lakes:
• Caddo Lake (in both Texas and Louisiana)
• Black Cypress Bayou
• Cross Lake
• Lake Bistineau
• Wallace Lake
The Player
Jonathan, a member of the Secret Lures Promotional Staff, earned his berth in this premiere kayak bass fishing event with hard work and success throughout West Virginia in what proved to be a great rookie season. To say kayak bass fishing is big in his area would be an understatement. It is huge! West Virginia kayak anglers have numerous trails and events to choose from, with four trails operating in his region alone. Jonathan, in particular, fished the West Virginia Kayak Anglers, the Southern West Virginia Kayak Anglers, the Mountain State Kayak Anglers, and the Summers County Kayak Bass Anglers events throughout the 2018 season and found success. All his time on the water led to two Top 5 finishes with the WVKA and ultimately a 12th place position in the points…more than enough accomplishments to punch his ticket to the big dance.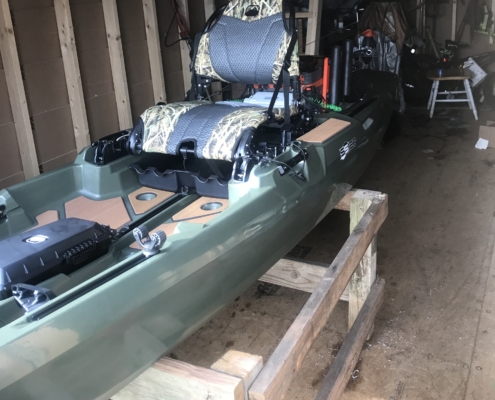 When he launches his Bonafide SS127 it will be the first time it has hit the water that far south, but Jonathan isn't too worried. According to Jonathan, "I consider myself a bank-oriented fisherman and we're hitting these lakes at a perfect time for that. The fish should be around the banks, with some spawning, some coming in to spawn, and some making their way out. Regardless of what they are doing, they'll be plenty of fish up shallow to win this event."
The Secret Lures
He went on to add, "I'll have a half dozen rods rigged up, with mostly Secret Lures. I look for the Big Dummy Stupid Tube and HD Stupid Tube Head to be a big player around cypress trees, boat docks, and other shoreline cover. Bedding bass won't tolerate that tube around them for long before they just have to pick it up. If the bite is tough, I can always scale down to the 3.7 Stupid Tube and still be successful."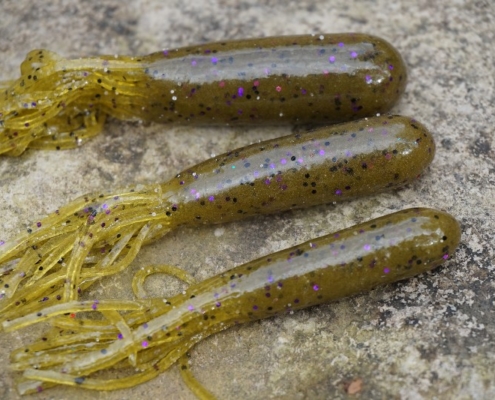 When asked about how he'll target some of the fish in transition, either moving in or moving out, Jonathan said he has a plan for that as well. "I'll have a different approach for those situations. The MVP HD Flippin' Jig will be my bigger offering on some of those gnarly spots and deeper areas with cover that pre and post spawn bass like to stop on. If I can't get bites on the bigger jig, I can mix it up with the MVP Finesse Jig, or even a Tail Shaker shaky head. I have a lot of confidence in single hook baits that I can work methodically and I feel like one of these three should do the trick."
One big difference in kayak bass fishing and the big motor fiberglass world is moving around. Kayak anglers have to give consideration to the time it takes to move from one locale to another and how to make the most of that time. They can't just drop into the driver's seat and head 10 miles up the lake on a whim or a gut feeling. They have to make the most of their time once committed to an area and it sounded like Secret Lures could help Jonathan with that too.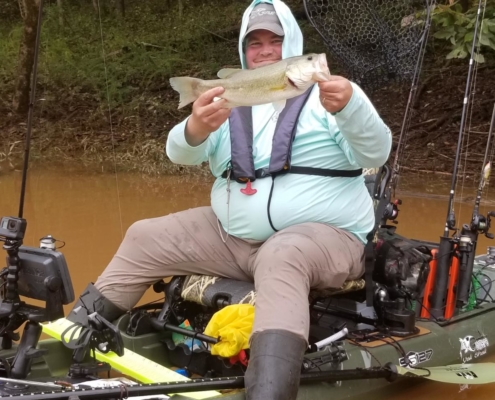 "As I move around within my areas, I'll be covering water with a Chubby frog. I hope to pick up a bonus fish or two throughout the day on topwater. Being able to toss that frog a long way and cover more isolated cover and random banks as I move around will also work to my advantage." Jonathan went on to add, "I'll be able to fish the Chubby weedless around vegetation, and I had a local shop produce a buzzbait head that works perfectly with a Chubby on the back in more open water."
In closing, Jonathan said, "Collectively, I feel like I've got a plan from top to bottom, the rest is in the Lord's hands. He has blessed me with this opportunity, and he gets the credit. Now I'm going to go and fish my strengths with proven products I believe in. It's gotten me this far, now I just need a few good days on the water down south."
Jonathan will be launching in Louisiana with the support of Secret Lures, Gunter's Yak Shack, Batteries Plus, Buffalo Tire and Brakes, and Stoke's Grocery Store. All those involved are rooting for his top to bottom Secret Lures plan to pay off for him. We thought sharing some of his insights on the biggest event in kayak bass fishing could help our readers pick the right Secret Lures for their next kayak bass fishing adventure, no matter how big or small.
For more information on the KBF National Championship, visit www.KayakBassFishing.com.
https://www.secretlures.com/wp-content/uploads/2019/03/IMG_1548-e1552602206898.jpg
3088
2320
secretlures
https://www.secretlures.com/wp-content/uploads/2018/10/Secret-Lures-logo-white-text-logo-300x151.png
secretlures
2019-03-20 12:45:59
2023-06-14 21:44:42
Secret Lures of Kayak Bass Fishing